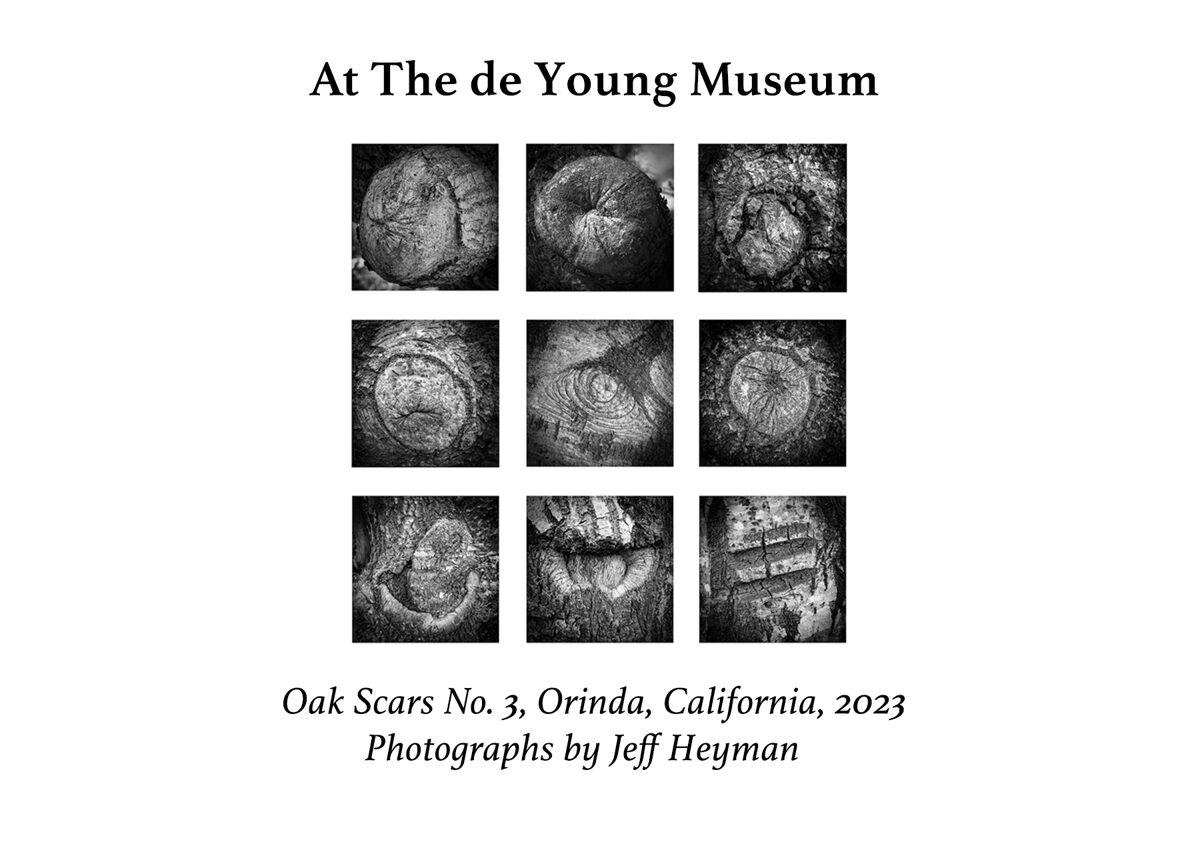 East Bay Photographer
Jeff Heyman
Exhibits Photographs
At de Young Museum
"Oak Scars No. 3, Orinda, California, 2023," a series of photographs of oak trees by East Bay photographer Jeff Heyman, was selected to hang in The de Young Open 2023, an exhibit showcasing Bay Area artists at the de Young Museum in San Francisco. The exhibit runs from September 30, 2023 to January 7, 2024.
Heyman's series of black and white photographs – presented together in a single 20-inch by 20-inch print – consists of nine closeup images of the "scars" on oak trees after their limbs have been removed. Each photograph captures the many unique scars left on these old growth oak trees from decades of serial delimbing.

"A tree endures many scars during its lifetime and I have documented a number of the sometimes strange markings on oak trees in Orinda where I live," said Heyman. "These oak scars, in many ways, mirror the scars we acquire over the course of our own lives," he added.

Heyman first took photography classes at San Ramon Valley High School in Danville, Calif., during which time he learned Ansel Adams's Zone System and met noted photographers, including Ruth Bernhard. He went on to earn a degree from San Francisco State University in Fine Art Photography, studying under photographers Catherine Wagner, Melanie Walker, Jack Welpott and Don Worth, as well as painters Paul Pratchenko and Robert Bechtle.

This is Heyman's first piece to hang at the de Young Museum, a place he visited frequently with his parents while growing up in San Francisco. He has had his work exhibited in a number of solo and group shows. Heyman's photographs are regularly featured in the Lamorinda Weekly, The Orinda News, and other publications. You can see his work, including "Oak Scars No. 3," at https://heymanfoto.smugmug.com. More information about The de Young Open 2023, including exhibit hours, can be found at https://www.famsf.org/exhibitions/de-young-open-2023.



Heyman Foto
Represented by Outcasts Revisited Media LLC, Jeff Heyman uses his classical training in photography to push the digital limits of the medium. With a background in photography stretching more than four decades, Jeff received his Bachelor's Degree in Fine Art Photography from San Francisco State University and studied under painters Robert Bechtle and Paul Pratchenko. But it was his Fine Art Photography studies with Catherine Wagner, Don Worth, Jack Welpott and Melanie Walker, while at State, that truly inspired his work. Jeff went on to produce and exhibit a range of creative work, primarily in black and white.
A San Francisco native, Jeff was influenced by the various artistic and photographic trends sweeping the Bay Area. While in high school, Jeff studied photography under Ralph Rappaport, an associate of Ansel Adams. Rappaport, a major influence, taught Jeff the Zone System and advanced film development and darkroom printing techniques. Rappaport also introduced Jeff to Ruth Bernhard, who met him privately in her home for a critique of his work. This meeting, with one of the world's definitive photographers, influenced Jeff's future work greatly. His background in classical photography is instrumental in his current work — a hybrid of classic "wet" photography and new digital formats.
You can see Jeff's work in the Heyman Foto Gallery right here: https://heymanfoto.smugmug.com
Check out Jeff's latest photos on Instagram: https://www.instagram.com/heymanfoto