Campaign Resources
Although I am not accepting any financial campaign contributions, here are some resources you can use to help me win in November and reform the Peralta Colleges so that our students can succeed. I will be adding more resources as the campaign progresses. Spread the word on social media, talk to your friends, neighbors and colleagues (please wear a mask!), and please share any of these resources so that everyone knows what we need to reform the Peralta Colleges by voting for Jeff Heyman for Peralta Colleges Trustee, Area 1. Thank you for your support!
Here are some campaign resources if you'd like to support me. Please print out or share these files and help reform the Peralta Colleges.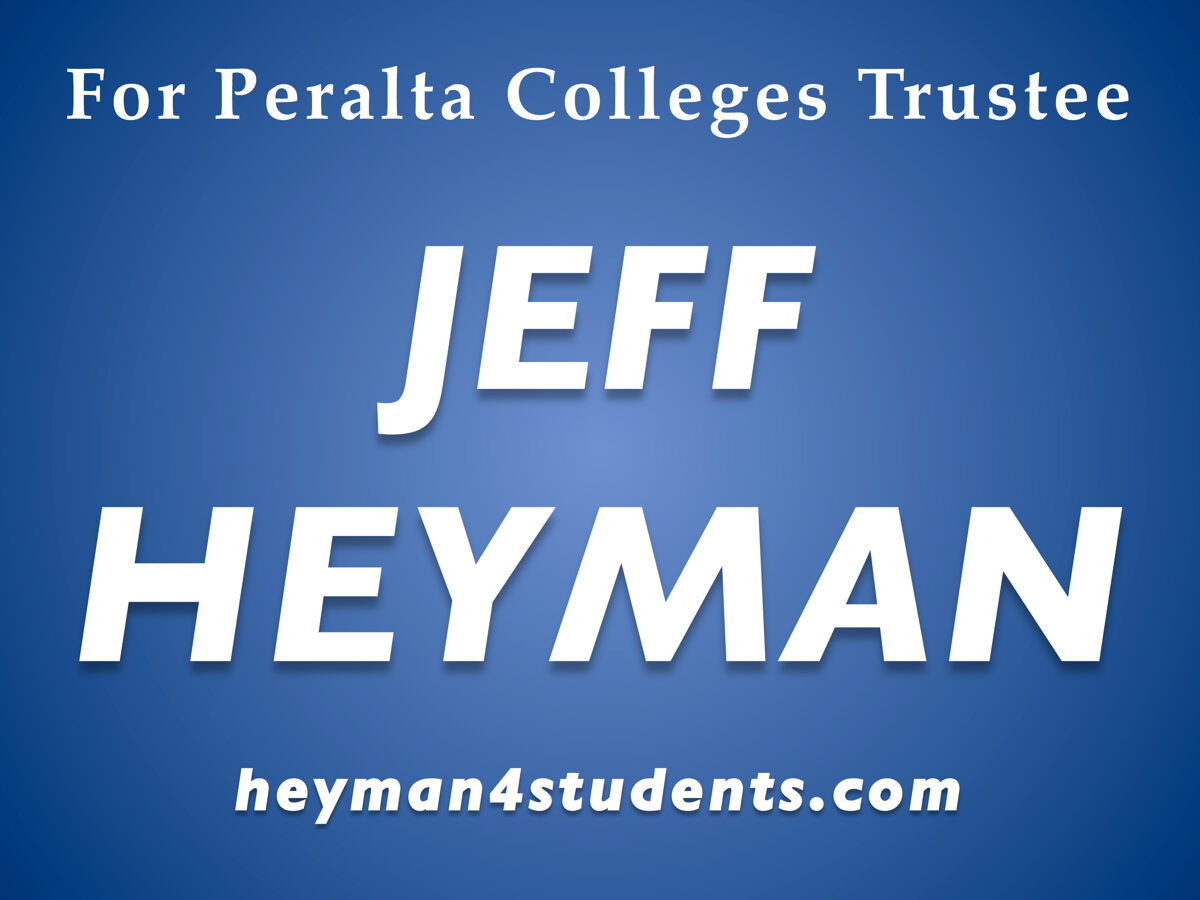 Campaign Poster PRINT FINAL.jpg
Campaign Poster PRINT FINAL B-W.pdf
Campaign Poster PRINT FINAL B-W.jpg
H4S_Social_Media_Badge.jpg
Window and Lawn signs are here!
If you would like one, just email heyman4students@gmail.com with your address and we will deliver (masks on) as many signs as you'd like! Thank you for the support.
Videos
See miscellaneous campaign videos and TV spots on my YouTube Channel here:
http://bit.ly/Heyman4StudentsYouTube
Photo Gallery
Here are some photos from my 18-plus years at the Peralta Colleges (and a few from earlier years). I think you'll agree, that I was working closely with students, faculty, staff, and community, to make all of us proud of the College of Alameda, Berkeley City College, Laney College and Merritt College (the home of the Black Panther Party!). Elect me so we can be proud of our community's colleges again.
To download high resolution copies of these and to see a whole lot more photos, please visit my photo gallery https://heymanfoto.smugmug.com/Heyman4Students
Other Resources, Videos, Resolutions & Proclamations